FURY OF THE DEMON - LA RAGE DU DÉMON
A legendary filmmaker. A lost movie.
A legacy of death.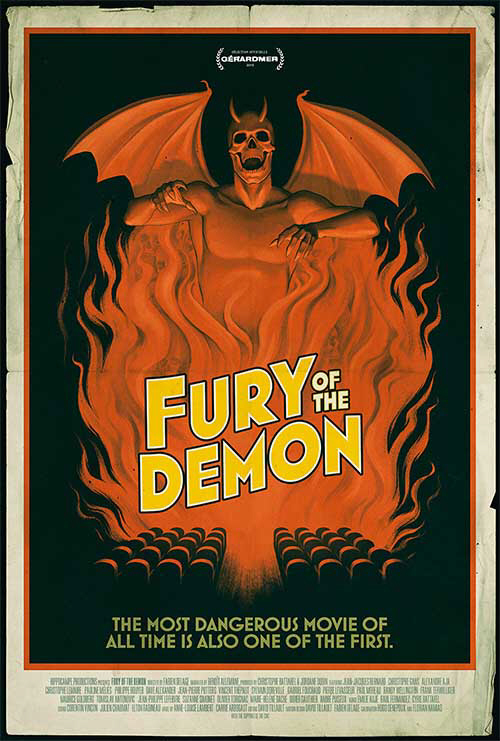 An investigation that takes us on the traces of violent riots having taken place throughout the 19th and 20th centuries, caused by a rare, fascinating and dangerous film: Fury of the Demon (La Rage du Démon), attributed to French cineaste Georges Méliès. Through conversations with journalists, filmmakers, historians, experts and psychologists, this documentary pulls back the veil on the most cursed and disturbing movie ever-made. From mysteries to mysteries, from questioning to questioning, discover the truth about the lost movie that has been shaking the film world for over a century!
UN FILM MAUDIT
Le film français le plus rare et controversé de l'histoire du cinéma des premiers temps : un court-métrage fascinant, perdu et dangereux qui provoquerait de violentes réactions chez ceux qui le visionnent. Qualifié d'ésotérique, le film aurait été réalisé par Georges Méliès en 1897. Le film est aujourd'hui perdu, il n'existe aucune copie.
LE DOCUMENTAIRE
Une enquête captivante qui nous emmène sur les traces d'émeutes violentes ayant eu lieu tout au long des XIXème et XXème siècles, provoquées par un film rare, fascinant et dangereux : La Rage Du Démon, attribué au cinéaste Georges Méliès. A travers des entretiens avec des journalistes, cinéastes, historiens, experts et psychologues, ce nouveau long métrage documentaire lève le voile sur le film le plus inquiétant de l'histoire du cinéma.
With Alexandre Aja, Dave Alexander, Jean-Jacques Bernard, Christophe Gans, Christophe Lemaire, Pauline Méliès, Jean-Pierre Putters, Philippe Rouyer...
Written and directed by Fabien Delage
Documentary – 60 min – HD – 16/9 – Color – Stereo - France
Produced by Hippocampe Productions
Fury of the Demon will be screened at Gerardmer International Fantastic Film Festival (France).
If you see it, you could die.