It's no secret that I absolutely love The Creeping Terror, a movie that made me laugh so hard that just remembering it brings a big smile on my face. What a surprise, not long ago, to receive a message from Jayne Dickinson, who played drums in the Dance Hall scene. Fifty years after the movie came out, a docu-fiction movie called The Creep tells the story of the making of this unique movie.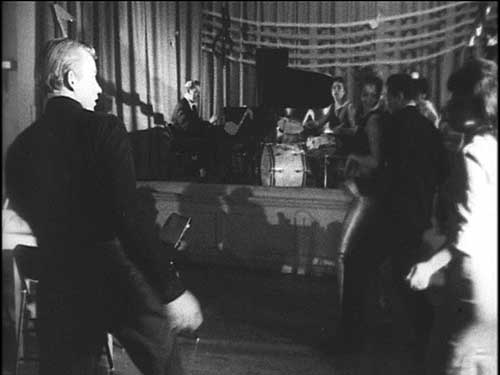 Can you tell us how you became a musician ?
Went to Bellevue music school where they teached both jazz, big band and swing, then moved to Hollywood area.
How did you came to be on the Creeping Terror, how did you heard about it and did you have to audition ?
In1964 at the apt courtyard where people gathered at evening to visit, one of the tenants invited me to the set, he was working on a movie. I tagged along and was just sitting there when the director and star in the film was extremely agitated because the drummer in the upcoming scene in the dance hall had not showed So he yelled out: "Anyone here play the drums ?" I was so surprised but could not resist raising my hand saying I doooo.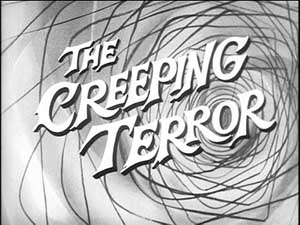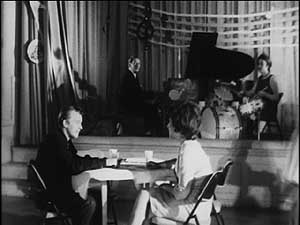 What are your memories about the director and did you have direct contact with him or were you left to play freely ?
I was a terrified teenager in a straight dress heading up to the stage . They had no drummers throne just a chair and there were two other players A man on bass plus a piano man.
We know that the sound was lost before the editing, was it your music that made it to the final cut, or were you dubbed as everyone else ?
We actually were doing live music, however, the end result was dubbed in because the original sound was lost or sabotaged. I never knew, so we re playing along and couples are grooving and twisting away. I knew several of the people there.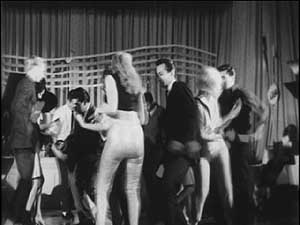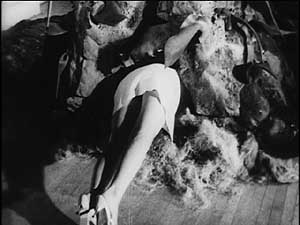 Did you make friends on the set, do you have good memories of the filming ?
The girl in the gold lame slacks was Candy (Carol). We ended up going all over the U.S. and Canada after this movie on the Burlesque theatre circuit as chorus girls, dancing with Blaze Starr, Tempest Storm, Lili St Cyr, just a dream, and many more. Anyway, back to the Terror. As we played for the dancers they had the fight scene and also sent helpers out onto the street to recruit little old ladies to "scream" with fear at the the sight of the terror They were so surprised to suddenly be a part of this !!! But laughing too. Having a great time Next thing I knew the monster makes an appearance shuffling. In the door headed straight for the stage. The monster actually devoured the band, me too, but they must have cut that out of final editing. When the monster started chowing down, I was suddenly inside mounds of humid foam rubber with several grips with whiskey breath pushing me through plus trying to hold up the weight of creature. Now, when I see this movie, i find it so funny that they were trying so hard to make it SCARY! I worked another full day driving the white pickup truck for the sound equipment outdoors on the landed ship scenes, then did no more. Art and his leading lady stayed. Close together.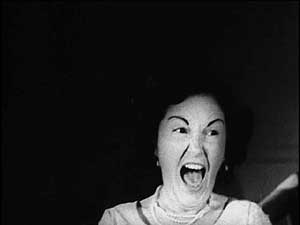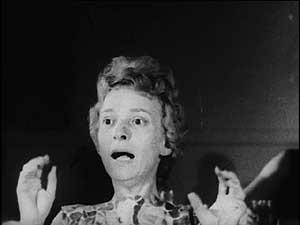 Were you finally paid ?
Art Nelson tried to get out of paying us. We went to the offices of the screen actors guild. Actually got 300.00$ Then I sort of didn't think much about it until years later.
Did you see the movie in a drive-in or theater ?
In 1982 when i was living in southern Ontario, Canada, I received a call from my friend Earl Jameson saying: Jayne, I just saw you on tee vee!!! It was such a surprise. I called city tv in Toronto to ask them how could I get a copy ?? I still have the letter response they finally sent back. Found a VHS copy of it at Scarecrow video in Seattle wa. Still have that too.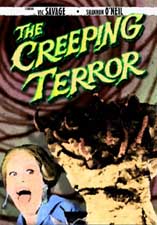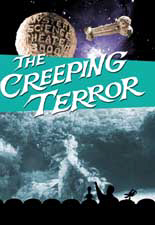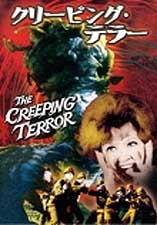 You're still drumming from what I've seen, what are you currently doing ?
I am. Still playing drums and singing too in several different situations in the western wash area, have to to keep working !!
What movies do you like to watch ?
I love film noir pictures, especially ones from mid to late forties, black and white.
Thanks Jayne.