LION ARRIVE POUR HALLOWEEN
LION IS COMING THIS HALLOWEEN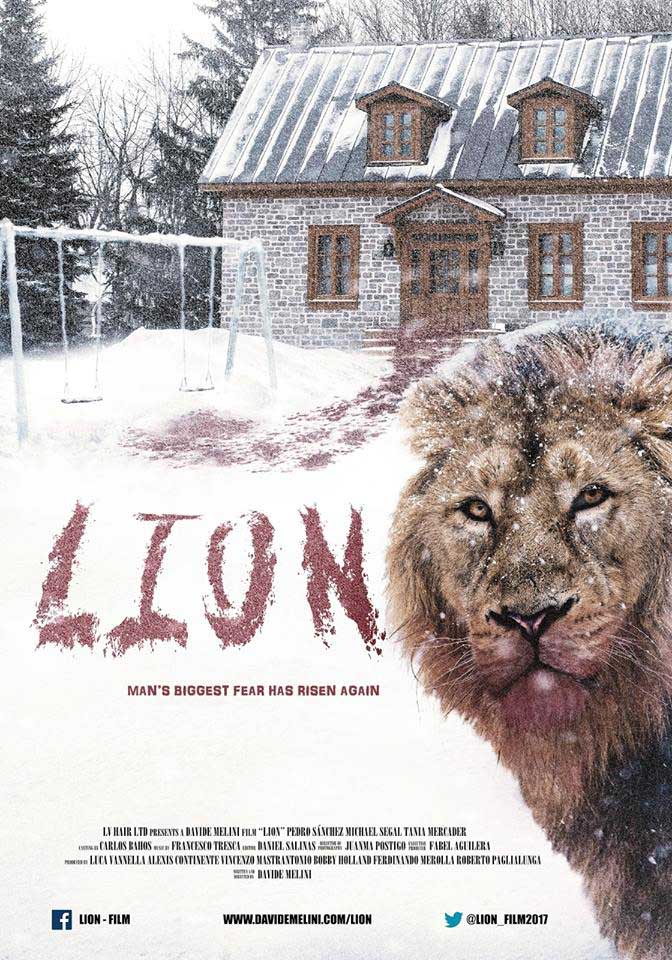 Du réalisateur Davide Melini (assistant-directeur sur Terza Madre de Dario Argento et sur la série Penny Dreadful), scénariste et réalisateur Italien qui réside en Espagne. Le court-métrage est actuellement en post-production et la sortie est prévue pour Halloween. Ce que nous savons:
1- Titre: Lion
2- Genre: Horreur
3- Pays: Royaume Uni
4- Synopsis: "Un chalet isolé dans une forêt enneigée... Un homme bourré d'alcool... Un femme incapable de se rebeller... Et un enfant de 8 ans troublé et ténébreux... La silence de la nuit est brisé par des cris... Le début d'un cauchemar terrible"...
5- Slogan: "La plus grande peur de l'homme est à nos portes!"
6 - Acteurs: Pedro Sánchez, Michael Segal ("Colour from the Dark", "Anger of the Dead"), Tania Mercader
7 - Produit par Luca Vannella ("Thor", "Harry Potter", "Apocalypto", "Heart of the Sea"), Alexis Continente ("Thor", "Penny Dreadful"), Vincenzo Mastrantonio ("Titanic", "Moulin Rouge", "The Passion of Christ", "Romeo + Juliet"), Bobby Holland ("The Dark Knight Rises", "Game of Thrones", "Sherlock Holmes: A Game of Shadows", "007 - Quantum of Solace"), Ferdinando Merolla ("Troy", "Gangs of New York", "Hannibal Rising"), Roberto Paglialunga
8 - Écrit et réalisé par Davide Melini (Il était dans la sélection officielle des "Donatello Awards 2011" pour son court-métrage "The sweet hand of the White Rose")
9 - Le film a été tourné avec la Red Epic Dragon 6K
From director Davide Melini (Dario Argento's "Mother of Tears: The Third Mother" and "Penny Dreadful"), Italian screenwriter and director who lives in Spain. The short film is actually in post-production and it's announced for this Halloween. What we know right now:
1 - Title: Lion
2 - Genre: Horror
3 - Country: UK
4 - Synopsis: "An isolated chalet in a snowy forest... A man blinded by alcohol... A woman unable to rebel... And an 8-year-old child troubled and dark... The silent night is broken with cries... the start of a terrible nightmare..."
5 - Tagline: "Man's biggest fear has risen again!"
6 - Cast: Pedro Sánchez, Michael Segal ("Colour from the Dark", "Anger of the Dead"), Tania Mercader
7 - Produced by Luca Vannella ("Thor", "Harry Potter", "Apocalypto", "Heart of the Sea"), Alexis Continente ("Thor", "Penny Dreadful"), Vincenzo Mastrantonio ("Titanic", "Moulin Rouge", "The Passion of Christ", "Romeo + Juliet"), Bobby Holland ("The Dark Knight Rises", "Game of Thrones", "Sherlock Holmes: A Game of Shadows", "007 - Quantum of Solace"), Ferdinando Merolla ("Troy", "Gangs of New York", "Hannibal Rising"), Roberto Paglialunga
8 - Written & Directed by Davide Melini (He was in the "Donatello Awards 2011" official selection for his short film "The sweet hand of the White Rose")
9 - The film has been shot with the Red Epic Dragon 6K
IMDB Page: www.imdb.com/title/tt5480036/?ref_=nm_ov_bio_lk5
Official Website: davidemelini.com/LION
cebook: www.facebook.com/Lion-Film-982262008522129/
Twitter: https://twitter.com/Lion_Film2017
PRINCIPAUX COLLABORATEURS DE L'ÉQUIPE - PRINCIPAL NAMES OF THE CREW:
Executive Producer: Fabel Aguilera
Production Manager: Pablo Lavado
DOP: Juanma Postigo (candidate at the "Goya Awards 2016" for his job on the feature film "El violín de Piedra")
Casting Director: Carlos Bahos
Production Designers: Carlos Borja Luise, Carlos Javier López
Costume Designer: Patricia Gabas
Make Up Special Effects: Sarah McCarthy
Editor: Daniel Salinas
Sound Designer: Christian Valente
Music: Francesco Tresca
Visual Effects: Alessio Barzocchini, Raúl Trujillo